Selling and shipping baklava across the USA
Our baklava is available for sale across the 50 United States from our online store, our Amazon store and through our valued retailers. The map below illustrates shipping schedules in business days from our factory to each state. Locate your state and use the legend on the right side of the map to find out how long your delivery will take. The shipping service used to calculate these schedules is ground service.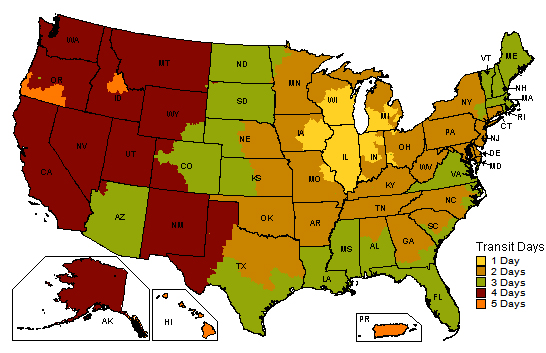 Alabama baklava
Alaska baklava
Arizona baklava
Arkansas baklava
Colorado baklava
Connecticut baklava
Delaware baklava
Florida baklava
Georgia baklava
Hawaii baklava
Idaho baklava
Indiana baklava
Iowa baklava
Kansas baklava
Kentucky baklava
Louisiana baklava
Maine baklava
Maryland baklava
Massachusetts baklava
Michigan baklava
Minnesota baklava
Mississippi
Missouri baklava
Montana baklava
Nebraska baklava
Nevada baklava
New Hampshire baklava
New Jersey baklava
New Mexico baklava
North Carolina baklava
North Dakota baklava
Ohio baklava
Oklahoma baklava
Oregon baklava
Pennsylvania baklava
Rhode Island baklava
South Carolina baklava
South Dakota baklava
Tennessee baklava
Utah baklava
Vermont baklava
Virginia baklava
Washington baklava
West Virginia baklava
Wisconsin baklava
Wyoming baklava
Shipping Carrier
All Libanais Sweets baklava, maamoul, and ghraybeh products ship via UPS Groud or 3 day expedited delivery.